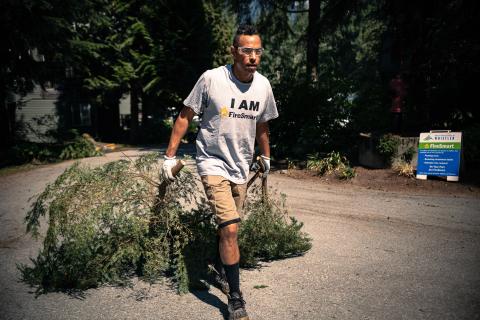 Wildfire is "inevitable, appropriate and essential" stated Dr. Jack Cohen, retired Research Scientist from US Forest Service, at a UBCM Convention study session on lessons learned from the 2021 Lytton fire. Cohen asked delegates to consider how we can prepare now to ensure that future community wildfire disasters are reduced in scale and impact.
Through a series of compelling images and videos from recent wildfire disasters in North America, Dr. Cohen explained that wildfires may initiate community disasters, but that it is the local condition of homes and structures, specifically the susceptibility to embers, that determines whether the fire will move through the community. "Ignition resistance is a community responsibility" stated Cohen, and it creates the conditions for effective suppression.
This was the case in the wildfire that destroyed much of the Village of Lytton.  Dr. Cohen explained that within an hour, the surface fire had burned four separate paths through the village and overwhelmed response capacity.  By his calculation, upwards of 300 firefighters would have been needed within a few hours in order to handle the number of structure fires that had ignited.
To answer the question of how homes and structures actually ignite, Alan Westhaver, wildfire consultant and researcher, walked delegates through the concept of the Home Ignition Zone and the most common ignition vulnerabilities: structures, vegetation and other flammable materials. 
Finally, a panel of local government representatives and the provincial lead for FireSmartBC provided additional insight. Highlighting the importance of local education, policy and planning tools, and dedicated FireSmart staff, the panel reminded delegates to focus on actions in their own neighbourhoods and communities.
Pointing to the principles of FireSmart, Dr. Cohen chimed "do the little things that make a big difference."