Image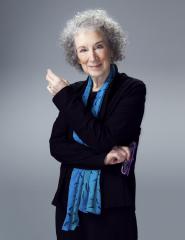 UBCM is very pleased to welcome internationally recognized author Margaret Atwood who will address delegates during our 2020 Convention. Ms. Atwood will explore the themes of climate change, COVID-19 and community in a session that promises to be thought provoking, insightful and animated with Atwood's acerbic humour.
Atwood's accomplishments over the course of her career include the 1985 novel The Handmaid's Tale that has been adapted into an eleven-time Emmy Award-winning television series, and its sequel, The Testaments, which won the 2019 Booker Prize.  
"When I think of the contributions of Canadian artists to public thought and awareness, Margaret Atwood is unsurpassed," said Mayor Maja Tait, UBCM president. "Over the course of her career she has helped us more clearly see and understand the forces that shape human experience and the health of the planet. Matters of governance, and how societies organize to deal with perceived threats, are woven throughout her work. We are very fortunate to have her input to the 2020 Convention."
Atwood is the winner of many international literary awards, including the prestigious Booker Prize, Arthur C. Clarke Award, Governor General's Award, the PEN Pinter Prize, the Ivan Sandrof Lifetime Achievement Award from the National Book Critics Circle, and a Guggenheim Fellowship. In October 2019, she was presented with the Companion of Honor award—given for achievements in the arts, literature, science and politics—by Queen Elizabeth, making Atwood only the third Canadian to receive the honor.
She is the author of more than fifty volumes of poetry, children's literature, fiction, and non-fiction; perhaps best known for her novels, which include The Edible Woman, The Robber Bride, The Blind Assassin, Oryx and Crake, and The Year of the Flood. Her non-fiction book Payback: Debt and the Shadow Side of Wealth, part of the Massey Lecture series, was made into a documentary. Her work has been published in more than 40 languages.  
Access to Atwood's address will be available to all registered delegates to the 2020 UBCM convention. To register, visit the UBCM registration website.