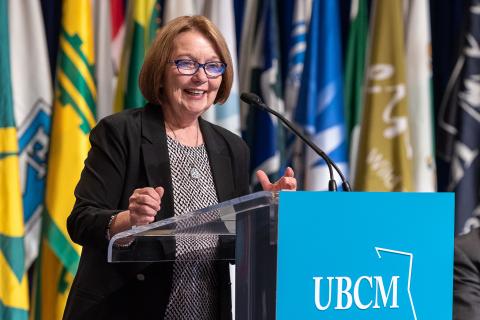 Shirley Bond, Interim Leader of the Opposition BC Liberal Party, applauded the resiliency, innovation and leadership of BC local governments in her UBCM Convention address Wednesday afternoon.                     
Bond emphasised the importance of local governments meeting face-to-face with government minsters, even if virtually, based on her lengthy career in ministerial positions with the BC government. "Access and opportunity are critical, and even more critical is the follow up."
"UBCM provides us with a forum to ask questions and learn from one another as we consider our post pandemic futures," she said. "Opposition critics have spent the summer asking questions and listening to BC Columbians." 
In reference to the overdose crisis that has already claimed the lives of 1,011 British Columbians this year, Bond cited her request to Premier Horgan to activate the Select Committee on Health.
The Interim Leader also referenced the need to move forward on reconciliation, saying "(t)here is a universal willingness at all levels of government to work together," she said. "We must all take this journey together and pursue meaningful reconciliation with First Nations in our province."