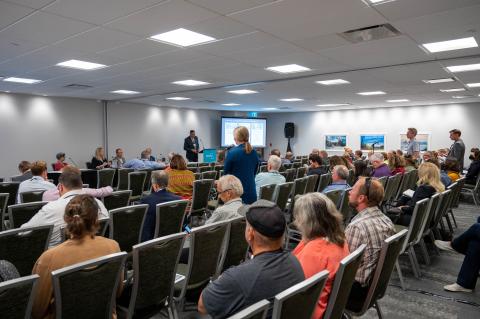 A provincial policy session at the Convention Tuesday received an update on old growth deferral areas and the status of the 14 recommendations from the Old Growth Strategic Review accepted by the Province in 2020.
Representatives from the Ministry of Forests and the Ministry of Land, Water and Resource Stewardship emphasized that calls from local government for greater consultation have been heard.
Eamon O'Donoghue, Assistant Deputy Minister for the Ministry of Forests, advised delegates that "most of the heavy lifting on old growth is to come," as local governments and First Nations can anticipate much deeper engagement from the Province on the recommendations in the Review. The Ministry of Forests confirmed it will be reaching out to UBCM for guidance on the best process to engage with communities to conduct comprehensive consultation and has hired a consultant to assist with the development of a consultation strategy.
Indigenous collaboration will also provide opportunities to "move from engagement to partnerships," stated Vera Sit, Executive Director with the Office of the Chief Forester, by being transparent and inclusive. This is specifically supported by the Review's recommendation four which provides direction to 'adopt a more inclusive and stable governance model that gives local communities…a greater role in forest management decisions that affect them.'