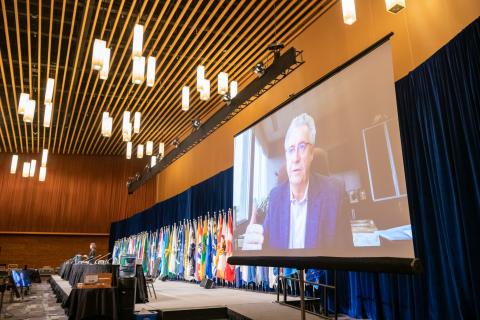 UBCM delegates today endorsed Policy Paper #1, Ensuring Local Government Financial Resiliency: Today's Recovery and Tomorrow's New Economy. Today's decision follows on a plenary session Tuesday that provided a thorough exploration of the paper from four members of the UBCM Select Committee on Local Government Finance: District of Sooke Mayor Maja Tait, City of Prince George Mayor Lyn Hall, Cariboo Regional District Director Al Richmond and Mike Buda, Executive Director of the Mayor's Council on Regional Transportation.
The entrenched problem of local government finance has only increased since the release of UBCM's 2013 advocacy paper "Strong Fiscal Futures", which was a blueprint for change. The Committee prepared this 2021 paper expanding on the previous work, focusing on three major cost drivers: housing, community safety and climate change.
The report also explores the impacts of the 'New Economy' on local government revenues as well as proposing a model for an effective partnership and an approach to implementation with the Province.
"This is a strategic approach to assist local government in financial sustainability, emphasising the need to build partnership with the province for implementation', said Mayor Hall.
"We want to encourage provincial engagement and participation, ultimately leading to implementation."
The rapidly evolving 'New Economy', is changing local government revenues. Despite its merits, property taxes have been not been responsive to new pressures, and revenue sources need to be diversified in the interests of financial stability.
The report aims to address the downloading of costs, for police, housing, social services and homelessness. "We need to hold the province as accountable to solve these problems, and Province should engage the Feds," said Mike Buda.
"There is a strong alignment and interest between local government and the Province to improve local government financial system," said Director Richmond. "There are positive outcomes here for both the Province and local governments.