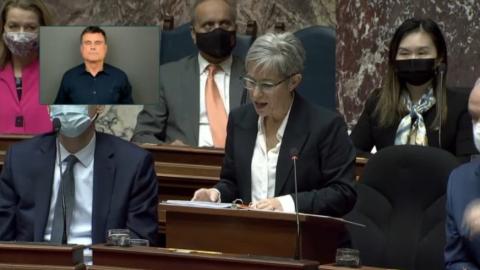 Image Credit
BC Legislature
Finance Minister Selina Robinson delivered the provincial budget in the legislature today. Budget 2022 includes significant new funding commitments of interest to local governments including emergency preparedness and disaster recovery, climate action, and homelessness.
UBCM has actively called for disaster recovery assistance and preparedness supports following the extreme weather events of the last year that impacted B.C. communities. Following the elimination of the Climate Action Revenue Incentive Program (CARIP) in 2021, UBCM advocated for a new local government climate action program that would provide greater funding and greater eligibility to fund local mitigation and adaption efforts. Creating a comprehensive homelessness strategy that provides housing and wrap around support services for the most vulnerable has been a pillar of UBCM's housing policy framework, A Home For Everyone.
"Budget 2022 addresses a wide-range of long-standing local government concerns," said Councillor Laurey-Anne Roodenburg, UBCM president. "The new climate action program expands considerably upon the previous CARIP program. The commitments to improve operations at EMBC and the River Forecast Centre, boost emergency preparedness and to support recovery in flood damaged communities are substantive. I am also heartened to see renewed investment in wrap around support services for the most vulnerable members of our communities. This budget demonstrates that the province has been listening to BC local governments."
Minister Robinson announced a deficit of $483 million for 2021-22, with projected deficits of $5.5 billion in 2022-23, and $3.2 billion in 2024-25.
Emergency Preparedness & Recovery
$1.5 billion invested over three years to help communities build critical infrastructure back better after the disastrous weather events of 2021 including:

$400 million in 2022/23 for Emergency Management BC to support people and communities
$1.1 billion earmarked in contingencies for disaster recovery costs over the next three years to support communities once the costs of recovery become better known

$120 million in 2021/22 in new funding to the Community Emergency Preparedness Fund to support emergency management and preparedness
Investment of $83 million over three years to implement a new Climate Preparedness and Adaptation Strategy for expanding climate monitoring networks and the provincial floodplain mapping program, developing an extreme heat responses framework, and protecting BC watersheds.
$90 million in 2021/22 to complete FireSmart initiatives and fuel management activities
$98 million over three years to fund wildfire prevention works and maintain forest service roads used to respond to forest fires
$145 million over the fiscal plan for Emergency Management BC and the BC Wildfire Service, which will support a shift from a reactive to proactive approach in the BC Wildfire Service that will use a year round workforce
Climate Action
Invests $1 billion in new funding for implementing the Province's climate action strategies, CleanBC and the Roadmap to 2030,  which includes:

Establishing a new $76 million Local Government Climate Action program in 2022/23 that will help local governments take action to reduce emissions and prepare for and adapt to climate change
$30 million in grants to local governments to improve active transportation infrastructure
Providing $22 million over three years to improve forestry carbon sequestration and expand the Indigenous Forest Bioeconomy Program
$13 million for the Circular Economy Strategy to support programs that reuse and collect plastic materials
$9 million to expand the Low Carbon Fuel Standard and to develop a new emissions cap on natural gas utilities
Extending the PST exemption for Zero Emission Vehicles (ZEV) until 2027 and increasing the threshold for luxury surtax on passenger ZEVs to a base of $75k
$79 million to continue the Go Electric program that provides rebates for electric vehicle charging systems, funds hydrogen refueling infrastructure, and supports a commercial vehicle pilot program
$43 million for continuing energy efficiency incentives through the CleanBC Better Homes, Better Buildings programs
Homelessness & Housing
Investing $633 million over three years to expand homelessness services and approaches that includes:

Investing $164 million over three years to expand the Complex Care Complex model to over 20 sites that will support up to 500 people with severe mental health, substance abuse issues or traumatic and acquired brain injuries
$264 million over three years for the continuation of housing supports for the up to 3000 people who were temporarily housed in leased or purchased hotels during the pandemic

An additional $166 million over three years to continue and accelerate progress towards building 114,000 affordable housing units, which includes: 

$100 million in 2022-23 to non-profit housing providers to accelerate the construction of mixed income rental housing for low-income families and seniors through the Community Housing Fund
$8 million to support the HousingHub's project development capacity, which works with community, government, non-profit and private sector partners to create affordable rental and ownership options
Forestry
$185 million over the fiscal plan to support forestry workers and communities affected by the old growth logging deferrals including funding for education and skills training, business and community partnerships, and the Bridging to Retirement program
Connectivity
Investing $289 million in new funding as part of a five year plan to connect more than 280 remote, rural and Indigenous communities to high-speed internet
Mental Health & Substance Abuse
$10 million over three years to the Ministry of Mental Health & Addictions for expanding mental health and addiction services, bringing the Province's annual investment to $375 million in mental health and addictions care
Doubling the number of community integration specialists to help people experiencing homelessness to navigate government and community support programs
Reconciliation
Investing $12 million over three years to create a new Declaration Act Secretariat that will guide and assist government to meet its obligation to ensure legislation is consistent with the UN Declaration on the Rights of Indigenous Peoples
New Ministry of Land, Water and Resource Stewardship
$44 million in new funding to create a new Ministry of Land, Water and Resource Stewardship that will work with Indigenous governments to develop a new vision and new policies for land, water and resource management to bring the government's natural resource policy in line with the Declaration on the Rights of Indigenous Peoples Act
The new ministry will incorporate existing programs currently housed in other ministries including land use policy and planning; fisheries and coastal policy and planning; and aquatic habitat management
Tourism
$25 million to support the tourism sector's continuing recovery from the pandemic
Mining
$18 million to advance the provincial mining strategy
ChildCare
An additional investment of $284 million over three years for childcare services, which includes fee reductions for pre-school children for before and afterschool care
Infrastructure
Invests a total of $27.4 billion over three years on capital spending